…of the HEAAARRRT! Go ahead, sing it loud and clear..you know you want to 🙂
Not only did we experience a supermoon solar eclipse this past Sunday but a lively art opening could be seen and heard at 83 Little Bridge Street in Almonte, ON.  I couldn't have asked for a better opening reception with a robust crowd of people that came from all over the Ottawa area to see the show. Many thanks to Tami Galili Ellis whose beautiful paintings were a pleasure to see next to my own, the talented Flautist Christian Paquette whose music was the perfect compliment to the work and of course, show curator Sanjeev Sivarulrasa. I have to give special thanks to Sanjeev for making this show happen for me. Initially, it had taken some work to coordinate and align our schedules to get this show off the ground but I'm so thrilled that it worked out. What a fantastic show!
To my surprise and great pleasure the very talented painter Norman Takeuchi and his wife Marion also made an appearance! I am honoured.  You can catch Norman at his upcoming exhibition at the Ottawa Gallery in his new show Truth of the Matter. I encourage you to go to the opening reception Oct 1. Norman is a fantastic painter!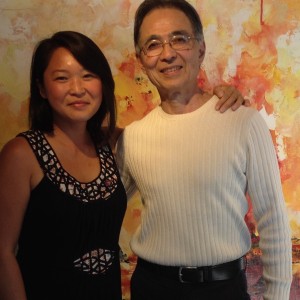 0 Comment